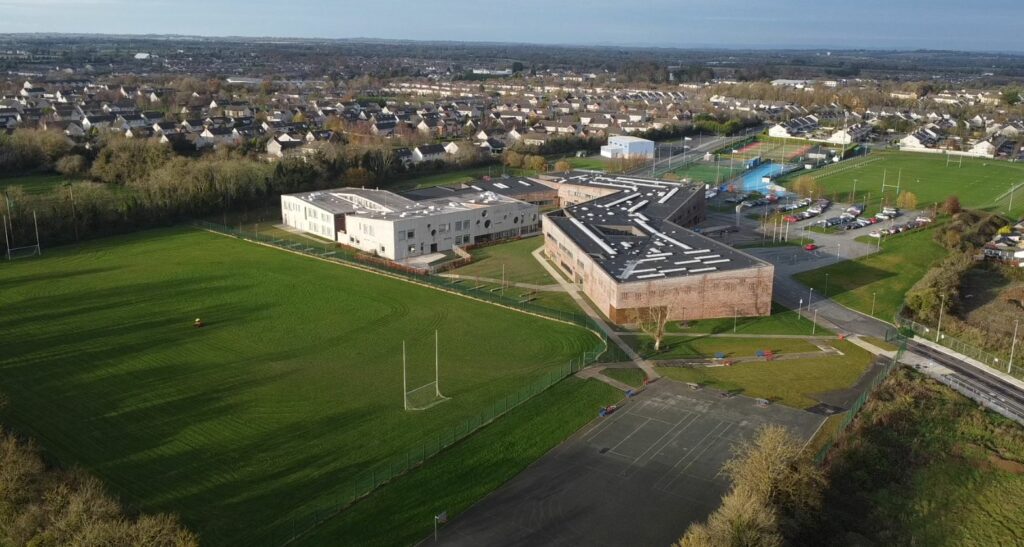 The original Ratoath College building opened in 2007 and is located on our 12 acre campus in Jamestown. Our first home, from 2005 – 2007, was Fairyhouse Racecourse.
In 2021, a second building was opened on our campus, adding much needed capacity and a new, state-of-the-art home for our Special Class for students with ASD, Ionad Arkle.
For ease of recognition, the school buildings are divided into four areas or zones, each named after a figure from Classical mythology:
A – Athena – the ground floor of the Old Building
J – Juno – the first floor of the Old Building
V – Vulcan – the ground floor of the New Building
Z – Zeus – the first floor of the New Building
The name of each room in both buildings starts with the letter of its zone, making it easier to find the place you are looking for.
Alongside student social spaces both indoors and outdoors, offices, storage and other multi-purpose spaces, the school's accommodation includes the following:
49 general classrooms
3 learning support rooms
1 DCG/Graphics lab
1 Music room
2 Art rooms
7 Science labs
3 Construction Studies and Wood Technology rooms
2 Engineering rooms
2 Home Economics kitchens
1 Home Economics textiles room
2 ICT labs as well as five mobile ICT labs, each containing 30 laptop computers
A Sports Hall with associated storage spaces and 4 changing rooms
A fully-equipped Fitness Suite
A full-size GAA pitch
Large hard-play area including 4 basketball courts and 2 tennis courts
A Guidance Suite, containing two multi-purpose teaching spaces, Guidance Counsellor offices and a kitchen.
The Prayer Room
In addition, the school is fortunate to be located adjacent to outstanding facilities including the Scout's Den and the Community Sports Campus. The school has access to these facilities in collaboration with our friends in Ratoath Athletics Club, Ratoath RFC, St Oliver's Community Centre and the 9th Meath Ratoath Scouts.
Ionad Arkle is our special class for students with ASD. Its physical home is in our New Building and includes:
3 class baserooms with attached relaxation rooms
A Central Living Area
A kitchen and separate utility room
A multi-sensory room
A Practical Activities room
A sports and fitness room
Enclosed outdoor soft play area